RIVARD Suction Excavators
Tuytel Handel is the exclusive dealer of Rivard suction excavators in the Benelux. Rivard is a company that was founded in 1952. Rivard strives for top quality and thanks to external audits, they stay at this level.
At the moment, Rivard offers two types of suction Excavators: Exvac SE7 and Exvac SE10.
Read more about these machines below: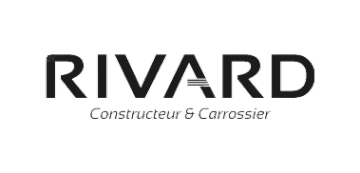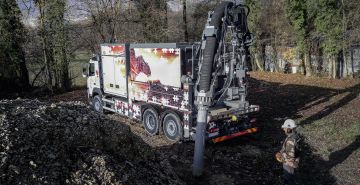 Exvac SE 7
The SE7 is the smaller suction excavator produced in by Rivard. This 3-axel suction exvacator has a capacity of 7m³. Because of the smaller size, this machine is great to use in tighter and harder to reach locations.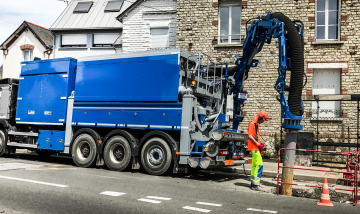 Flexibility
One of the biggest pros to using a suction excavator is that it can be used in hard-to-reach locations, such as basements and roofs.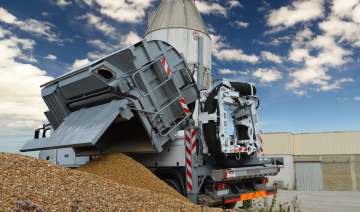 Safety
Using a suction excavator instead of a regular excavator can save you a lot of hassle. A suction excavator can easily remove material around roots, cables and piping without damaging anything.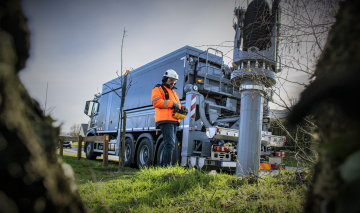 Productivity
Suction excavators have a maximum amount of material they can hold. The smallest machine is able to hold up to 7m³.
The Rivard Advantage
Thanks to the industrial, cast-steel turbine, you need significantly less maintenance on the trolley.

Thanks to the patented hydromechanical clutch drive, this truck has a considerably longer lifetime

The vacuum truck has a cylindrical shape which ensures better tipping performance and a longer lifespan.

On the truck, you have a full-colour 7" operating system with user-friendly software in Dutch
Would you like to know more about the possibilities? Please contact us!
By submitting this form, you agree to our Privacy Policy and Terms and Conditions.
More about RIVARD
Founded in 1952, RIVARD has been busy developing and producing tools to improve the safety of performers who deal with liquid waste and utilities on a daily basis since that year. The French brand has long been known as one of the best brands in suction technology. This French industrial company with more than 65 years of experience in designing and building machinery and equipment. French manufacturer Rivard builds two basic types of suction excavator with capacities of 7m³ and 10.5m³. The container has its pivot points at 1700 mm height. The suction material can be easily unloaded thanks to the large roundings of the tipping container.
RIVARD produces ergonomic and high-performance machines, such as the suction truck. Everything is developed with close contact with RIVARD's customers. After all, they are the ones who will ultimately use the product, which makes their input very valuable.
If you are considering purchasing a suction excavator, RIVARD's suction excavator is definitely a good option. During the production process, RIVARD uses only the best components. Moreover, external audits are used to continuously guarantee top quality.
An A-brand suction excavator
Prevent damage to pipes, cabling, tree roots and much more with the help of a RIVARD suction excavator. Vacuuming material at height and deep underground is no problem for this suction excavator, as this machine is equipped with powerful turbines. The Rivard machines are fitted with 3 turbines as standard. This can optionally be expanded to 4 turbines.
Flexible
RIVARD suction excavator are equipped with a flexible suction arm, making them suitable for use in difficult-to-reach locations, such as roofs, wells, crawl spaces and surfaces with pipes, tree roots and cabling.