Modular, robust and versatile
Whether it's excavating soil, compost, rubble or other screenable materials, the GREMAC e2+ can get the job done!
The E2 is the slightly larger version of the e1. This drum screener has a 3-metre-long drum. However, this does not affect the weight of the screen. This drum screen only weighs 3.5 tonnes including the generator.
Furthermore, this model has the same advantages as you are used to from Gremac. The e2+ is modular and the frame and other parts are made of galvanized steel. Robust, compact and German solidity!
The drum has a length of 2944mm. The mats in this drum are easily exchangeable, so that you can screen different fractions. There are mats available in sizes from 5x5mm up to 50x50mm. The machine has a throughput of up to 70m³, depending on the material.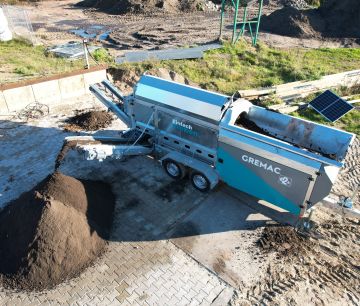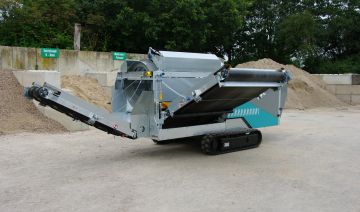 Solid
The drum screens are made of galvanised steel, which makes the machines very solid and durable. Despite the solid material, the screener is very light and easy to transport.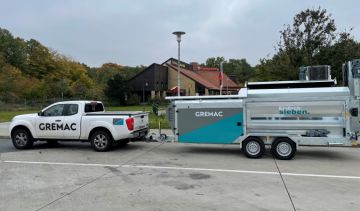 Compact
The e2+ drum screen has a weight of 3500 kg, including the generator. This makes the machine very easy to transport using a trailer or e machine is easy to transport with a towbar.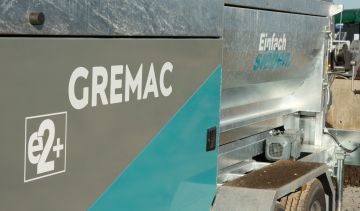 Longetivity
All Gremac machines are made using galvanised steel. To ensure an excellent quality, the machines are produced in the German factory.
Questions about Gremac's e2+? Please contact us!
By submitting this form, you agree to our Privacy Policy and Terms and Conditions.
Of course, there are also a number of options that you can add to the screen. Think of a remote control, rear conveyor belt, ejector grid and interchangeable screen mesh. Add these options to your e2 to make a real all-rounder of the machine.