Compact mobile shredder
Since its launch, this dual-shaft shredder by Arjes has become extremely popular and is now a must-have for any company working in the recycling and demolition sector.
This flexible and robust shredder is equipped with a combined rail system and hook arm, a revolutionary quick-change system for the shafts, an SCU control and a shaft design that continuously expands the machine's range of applications.
The machine is very flexible in its use: in addition to the many applications with construction and demolition waste, the mobile shredder is also perfect for processing railway sleepers, carrots, tyres, old and fresh wood, household and commercial waste and many other materials.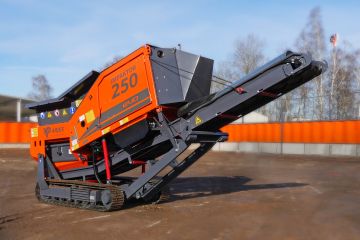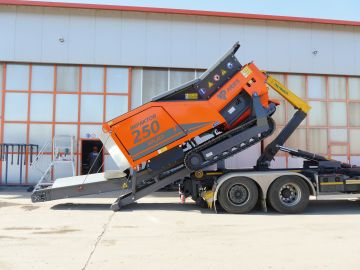 Easy to transport
Thanks to the low basic weight and the hydraulically tiltable chassis, transport on a box truck or a hook truck is possible without special permits.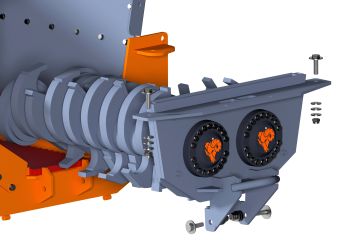 Quick-change shaft system
Easy installation and quick removal of shafts, for easier maintenance, renovation and change of type of shaft, which increases productivity.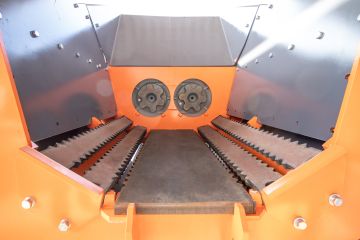 Adjustable side combs
The side combs can be opened or closed mechanically, depending on the material and customer needs. This action will either reduce or increase the output side and throughput.
The Arjes Benefit
This shredder includes standard attachments such as water spray system, magnetic belt and remote control

The quick exchange system for the shafts significantly reduces the time spent on maintenance, refurbishment and changing the shafts. Ensuring you have the least amount of downtime as possible

Track system and hooklift/ multilift included as standard

Thanks to the SCU control and predefined programs that control the rotation and speed of the shafts, you can enjoy user-friendly operation
Areas of application
The Impaktor 250 EVO from Arjes can be used for shredding several kinds of material:
Biomass and green waste: The Impaktor is perfect for shredding organic materials like green waste and tree branches.
Logs and roots: The solid material of logs, rhizomes and wood residues can be easily shredded with the aggressive ripper hooks.
Waste wood: Processing waste wood categories A1 to A4, such as scrap wood, cable drums and pallets is no problem for this compact shredder.
Cable drums and plastics: Shredding household and industrial waste saves space in landfills and allows for sorting and separation of valuable resources.
Construction and demolition waste and mineral waste: At construction sites, rubble such as concrete, asphalt, tiles, etc. must be regularly reduced in volume to enable transport and processing. The impaktor helps you with this!
More about the Impaktor 250 EVO
The Impaktor 250 EVO is Arjes' most compact shredder. With a total weight of only 13.5 tons, this machine is easy to transport by hook truck or low loader. In addition, this shredder with caterpillar undercarriage can easily be unloaded from the low loader by means of the remote control supplied as standard. This allows you to put the machine in the right place after the transport very easily. With this remote control you can, if desired, also adjust the rotation speed and direction of the rollers.
The Impaktor 250 EVO is equipped with a tracked chassis. Are you looking for a stationary shredder? Take a look at the page of the Impaktor 250 E-PU, the electric and stationary shredder
Durable engine
Looking for an energy efficient shredder? The Impaktor 250 EVO comes with a Volvo Penta Stage V engine with 175 hp. The manufacturer has chosen for this machine because of its low fuel consumption. This decision ensures a good price-quality ratio and a better noise level compared to competitors.
Exclusive dealer
Tuytel Handel is exclusive dealer of the machines of Arjes in the Netherlands.
Questions about Arjes or the Impaktor? Please contact us!
By submitting this form, you agree to our Privacy Policy and Terms and Conditions.