Elektrische & Compacte shredder
Due to its great efficiency and minimal maintenance requirements, the stationary electric version of the double-shaft shredder is effective in extremely challenging application areas. The control unit and shredding unit of the shredder can be utilized alone or incorporated into already-existing recycling facilities.
There is significantly less vibration to the control system because of the separation between the shredder and control units (maximum 8 meters). Additionally, there is less grime and dust.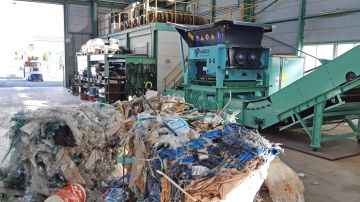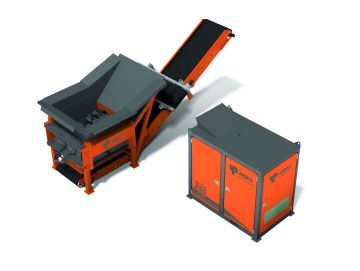 Separate drive and control unit
The control system experiences significantly less vibration as a result of the shredder and control units being placed at a maximum 8 meters apart. Furthermore, there is less dust and filth.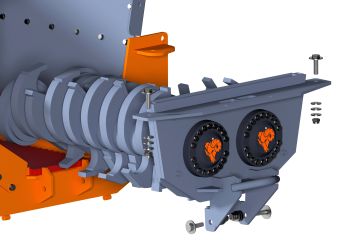 Quick change system for shafts
Shafts may be quickly and easily installed and removed, making it simpler to maintain, renovate, and switch out shaft types. This boosts production.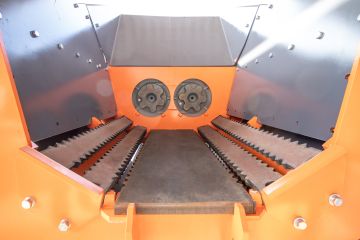 Mechanically adjustable side combs
De zijkammen kunnen worden geopend of gesloten, afhankelijk van het materiaal en de behoeften van de klant; het verkleinen van de uitvoergrootte of het verhogen van de doorvoersnelheid.
Voordelen
This shredder includes standard attachments such as water spray system, magnetic belt and remote control

The quick exchange system for the shafts significantly reduces the time spent on maintenance, refurbishment and changing the shafts. Ensuring you have the least amount of downtime as possible

Track system and hooklift/ multilift included as standard

Thanks to the SCU control and predefined programs that control the rotation and speed of the shafts, you can enjoy user-friendly operation
Fields of Application
Arjes' Impaktor 250 E-PU can be used in several fields of application.
Read more about these fields below:
Biomass and green waste
For the efficient processing of tree branches and other forms of organic waste in biopower plants.
All organic matter generated by or as a result of plants and animals is referred to as "green trash" or "biomass." The material is shred, NOT compressed, thanks to our revolutionary shaft system's efficient cutting geometry. The materials must first be appropriately prepared in order to be used further in biofuel power plants.
Stem wood & roots
To meet the high demands of stem wood, also referred to as felled, delimbed, and pollarded trees, our unique tool shafts are fitted with forceful rippers that break the material first before feeding it to finer blades. These resources are then used to produce heat and electricity, new building materials for the construction sector, and raw materials for the paper sector.
Our strong ripper hooks first break up the bulky stem wood, root stocks, and logging debris.
Waste Wood
Processing A1 to A4 waste wood for material or thermal recycling, such as demolition wood, cable drums, and pallets.
Waste wood is wood that was previously used for something else, such as pallets or wooden furniture, and as a result, it may contain iron and metal components. Because our shafts are only marginally vulnerable to these contaminants, their effects on the shredding process are minimal. After being shred, the material is recycled as a source of raw materials for the paper industry and also used to produce heat and electricity.
Waste & Plastics
By shredding household and industrial garbage, landfill space is saved and valuable resources can be separated and sorted.
Garbage and rubbish from businesses and private residences include a wide variety of materials, including plastic, wood, paper, cardboard, glass, and metal. In addition to shredding the material, it's critical to effectively separate material containing metal. This material can be treated for replacement fuel recovery because of the high calorific contents and low percentages that are biodegradable.
Debris and Mineral Waste C&D
Debris from construction sites, such as concrete, asphalt, tiles, etc., must be processed and disposed of in smaller volumes.
On construction sites, a lot of construction trash is produced during building expansion, new construction, and destruction. In order to be further processed into recycled concrete or used as fillers for the construction of roads and paths, mineral waste and building materials including concrete, asphalt, bricks, and mortar leftovers must be significantly decreased in volume.
Questions about the Impaktor 250 epu? Please contact us!
By submitting this form, you agree to our Privacy Policy and Terms and Conditions.
Questions about Gremac's e2+? Please contact us!
By submitting this form, you agree to our Privacy Policy and Terms and Conditions.
Heeft u vragen of interesse in de aanschaf? Neem contact met ons op!